Basic Character Info
Name:
Ookima Shinji
Age:
230
Visual Age:
18
Gender:
Male
Ex-Division:
7th division
Appearance: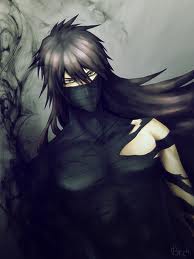 Personality:
Shinji is a chilled back guy.He is close to his friends and will do anything to protect them.He has a great sense of humor and loves to have fun.He also loves to fight but only does when he has a reason.
Background/RP Sample
Background:
When Shinji was a child he was alone he had no family he lived in an abandon shed.He made friends and considered them his family one while out for a walk with his friends they ran into a hollow and none of them could do anything they just stood in fear then the hollow garbed one of his friends and ate him the hollow then lunged at Shinji but then a Shinigami came to the rescue and killed the hollow. After that day Shinji wanted to be a Shinigami so that he could protect his friends.He joined the academy and passed top of his class he was then accepted into the 7th division wear he was in the third seat position.He was soon to be betrayed by his closet friend.He tested hollowfication on him that is how he got his hollow mask after that he couldn't control his new powers and was banned from the soul society he left and went to the world of the living there he ran into the other vizard's who helped him control his inner hollow.
RP Sample:
Shinji sighed as he watched the bright blue sky from the grassy, dew covered field he lie in. He has come to this spot every day since he was banned form the soul society."Im so bored i hope something comes before i go insane" Shinji complained as he sat up form the grassy field he then jumped into a tree looking for anything that might interest him.He found nothing so he jumped out the tree and went back into the town to grab something to eat.He stopped at a small convenience store and grabbed a few rice balls and was one his way back to the field to take a nap.
He reached the field and sat in the grass leaning on the tree he was soon asleep.He opened his eyes and he knew exactly where he was but was surprised because he was in his inner world.He knew because it was a a dark fogged covered cemetery with a huge cross in the middle of it. "Um ok this is new....hey Shi no tenshi you here?" he looked around but never received an answer back. "Ha shes not here but i am." Shinji quickly recognizes the voice of his inner hollow and looks around for him." I know it's you Takeshi now show yourself!" Shinji looks around but still cant see Takeshi."Ok i will come out not to talk but to fight cause you see i want your body hehehehe." Takeshi appears in front of Shinji. Takeshi then smiles and swings his zanpakuto at him Shinji quickly dodges it and reaches for his zanpakuto."Hehehehe i do love a good fight" he charges at Shinji stabbing rapidly.Shinji ducks and swings his sword at Takeshi legs but he easily dodges it."Ha thats what i would expect from my inner hollow but this fight is going to end shortly"
"You think so huh" Takeshi smiles in a wicked way he then vanishes into the fog."Come back you coward!" Shinji yells looking into the fog."I never left." Takeshi appears behind Shinji and stabs him in the chest.Shinji coughs up blood and falls on to one knee."Is that all you got.....you are a pathetic host for this body and thats why im going to take over." Takeshi starts to walk away when Shinji stands up smiling."I haven't had a good fight in ages but like i said earlier the fights going to end soon..." Shinji takes the sword out of his chest and throws it to Takeshi but when he catches the sword Shinji is right in front of him and slices open his chest Takeshi then collapses onto the ground and disappears.Shinji breathing heavily because he has a punctured lung also collapses but is caught by his zanpakuto Shi no tenshi. He then wakes up but back in the field he smiles and looks back at the sky and sighs."What an interesting day..."
Zanpakuto Information
Name:
Shi no tenshi meaning "angel of death"
Release Phrase:
Shine Shi no tenshi
Element/Family:
Both dark and light.
Manifestation:A women with long silver hair and a black halo she has jet black wings and wears a silver robe.
Sealed Zanpakuto:
Like a normal katana but the blade is black and the hilt is gold and black
Shikai:

Shikai Ability:Increase speed and when it cuts or stabs someone four times the enemy then dies.
[Bankai applies only for Captains, Advanced Vice Captains and Elite Vaizards]
[b]Bankai:
When in bankai the blade looks a normal katana but the blade is gold and forms black wings and a halo at the hilt
Bankai Ability:
Basically the same as the Shikai but instead of getting stabbed or cut four times it now is two times.
Hollow Mask
Name:
Takeshi
Manifestation:
Looks like Shinji but just opposite color
Ability:
When Shinji has his mask on his strength and speed increases,and Gran Ray Cero
Hollow Mask Appearance:
Duration/Cool-down:6/8
Techniques
Name:
Tatchi no Shi
State:
Bankai
Description:
When Shinji use this technique a dark wave comes out of his zanpakuto and when he swings it the wave flies toward the opponent and if it by the wave it slowly kills them.
Duration and/or cool-down:None but to many uses will cause fatigue
Name:
Fogi Shi
State:
Both
Description:
A cloud of fog surrounds the battle ground Shinji disappears into the fog and can come out anywhere to strike.
Duration and/or cool-down:None